This Week in Free Presets
---
Soulful Keys for Harmor​
A pack of synth key presets for Harmor. Includes presets great for chillhop, lofi, synthwave, deep house, and more. These sounds will captivate you with their emotive depth and expressive qualities. Download the Harmor presets here.​
Maximus Mixing Presets​
Creative mixing presets for Maximus. Includes compression and distortion presets for instruments and also mix buses. When you download this, you'll find these tools both dynamic and powerful. Download the Maximus presets here.
This Week in Plugins
---
Oh, Look at That: Cesium
​In the world of VST plugins, the interface can often hint at the quality of the mess that lies beneath. So, when I stumbled upon the Cesium plugin by Green Oak Software, the swanky, steampunk design had me raising a skeptical eyebrow, anticipating some sort of disappointment behind the pretty facade.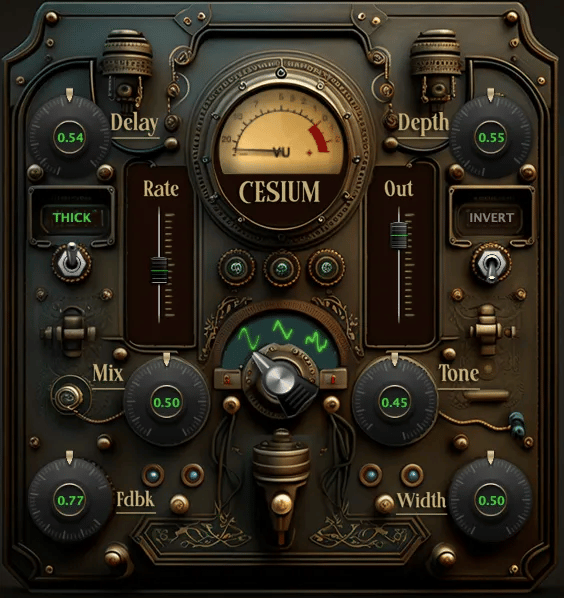 After all, we've seen it time and again: a gleaming interface is no guarantee of aural bliss. In this case, an interface generated by AI, no less. The nagging voice in my head couldn't help but question if this oh-so-dashing plugin would live up to its promises of sonic depth, or if it would crumble under the weight of its AI's aesthetic ambition.
Lo and behold, Cesium exceeded my expectations, proving itself more than another flashy dud in the plugin world. I mean, who would have thought that a chorus effect plugin could be a tour de force? It shines when applied to synths and leads. And with its lush depth and fluid motion, Cesium demonstrates that sometimes, just sometimes, you can have your cake and eat it too. Download Cesium here.​
Lo-fi Samples With Vibe
​Zumzet Lite is a Lo-fi sample-based virtual instrument. Includes 23 presets such as keys, pads, synths & leads. The samples invoke a sense of serenity and excel at their purpose. The download process is slightly annoying- it's through Gumroad. But you'll find the presets well worth it! Check out the Lo-fi instrument here.​
Frequency Shifter Tip
---
The Tip
​Use the Frequency Shifter to create a pulsating effect for basses.
Why?​
The Frequency Shifter can infuse basslines with movement and depth, transforming them into captivating and dynamic elements.
Tell Me More.
​FL Studio's Frequency Shifter excels as an audio processing tool. Adjusting the Frequency Shifter's feedback knob allows the creation of rhythmic, pulsating effects.
This technique allows you to achieve unique and evolving soundscapes, enriching your music. When applied to a basslines, it ensures a hypnotic and compelling timbre.
See It in Action.
​To use the Frequency Shifter for creating a "wobble" effect, add Frequency Shifter to a mixer track. Then turn up the feedback and frequency knobs, as shown in the image below.
---
We'll see you next Friday with another roundup of presets, samples, and VSTs that you can use in FL Studio!
Reply and let us know if you'd like to see any presets in particular or if you have music you'd like me to feature.
Take care.
Cheers,
The FL Presets Team